Hitting the trail together.
Hiking and traveling with your dog is a great way to spend quality time together. Short day trips don't require much preparation, but longer hikes should be planned. Spending a little time up front will help you avoid unnecessary surprises. It will also allow you to focus on the experience itself and the trail ahead. To get you started on the right foot, and paw, we put together a few tips for a successful adventure together.
The most important thing when hiking or traveling with a dog is comfort. Just like us, poorly fitting apparel and gear can really rub you the wrong way. Make sure that your dog has a comfortable and well-fitting harness or collar. An adjustable, ergonomically designed product will serve you best because you can fine-tune your dog's comfort and ensure that he or she will be comfortable while moving, not just sitting. A harness with a sturdy handle will also come in handy as it will make it easier to control and help your dog on challenging terrain or in tricky situations.
You will also want a leash that feels comfortable in your hand. Remember, you're in this together. Choose a light but durable leash. A padded handle can help too and will provide additional comfort on longer hikes. Reflectors are also important and will provide visibility in low-light situations, dark urban areas, road crossings, or when making your way through the woods with a headlight. Most of all, remember that your dog should be harnessed just about everywhere, especially in national parks and other nature reserves.


Beat the heat.
When hiking with your dog, you should always be mindful of the weather. Choose dog apparel and gear according to the season and for the weather that is forecasted for the time you'll spend outdoors. In spring and summer, and depending on your dog's coat, a cooling vest is a smart accessory. It allows a dog to stay comfortable outdoors in the heat longer and lessens the chances of overheating. A cooling vest uses water evaporation, the same way our bodies do, to cool the dog, which means you will need to keep the vest wet. If it becomes too dry it could actually warm the dog. But it's easy to use and a lifesaver on hot days – all you do is add water.
In the summer, and especially in the heat, it is important to ensure that dogs have an adequate supply of water and that they take regular breaks. Find a good resting place in a shaded spot. A sleeping pad will make breaks that much more comfortable and protect your dog from rocky and hot terrain. Swimming or wading at the water's edge is another great way to cool down. When hiking overnight, a sleeping bag is the best choice because the dog can choose to use it as a sleeping pad or to dig into the warmth of the sleeping bag with you. In the fall, you most likely won't have to worry about the heat, but a sleeping pad will still provide comfort, especially one with a waterproof bottom.
The weather can change quickly
It's a good idea to pack a raincoat also for your furry friend. If a summer shower hits your trail, it won't stop you from going. The raincoat fits into a small space and protects your dog not only from getting wet, but also from wind. When your dog stays dry, he won't get cold either. Especially during a break, the muscles cool down quickly if the coat is drenched and the wind blows in.
Good exercise and yummy rewards.
If your dog isn't used to long hikes, it's best to start with short walks and build endurance gradually, the same way people do with exercise and serious hikes. In no time, you and yourdog will be ready for longer journeys together, and your dog won't get too tired too soon or be overworked.
Always plan to bring enough water and even food for trips and excursions. A good treat bag is a convenient way to always have snacks nearby, whether you're on a day trip or a stroll through the city. Why do you need treats on a walk? Think about all the other people and dogs that you'll encounter. When your dog exhibits good behaviour, he or she should be rewarded accordingly. A treat bag can also hold waste bags, as well as a phone or other small accessories you may need quick access to.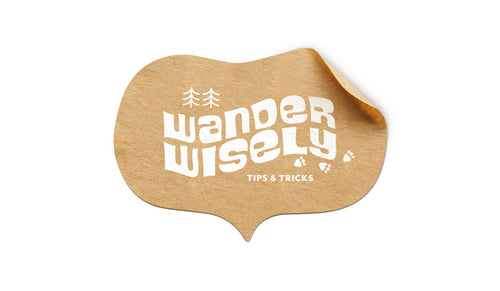 Packing list for hiking and traveling with your dog.
> Well-fitting collar or harness and leash
> Water and snacks (very important)
> A cooling west for summer days
> Raincoat for summer rain
> A sleeping bag for rests and overnight stays