Keeping dogs safe while driving
New territory, new adventures
Dogs love being home as much as we do, that's their territory. But also like us, sometimes a change of scenery can do your dog some good. Many dogs are accustomed to car travel, others not so much. But there are plenty of places that dog owners need to drive to with their dogs, such as for hobbies, shopping and longer trips to visit family during the holidays or for vacations.

Whatever gets you and your dog out on the road, it's important to learn how to keep your dog safe and happy during transit. For one, there's your dog's safety, and two, traveling with a dog that is used to car travel and that remains still and calm while you are driving will help to protect the safety of your entire family as well as everyone else on the road. Plus, if your dog is safe and happy on the road, the journey to your destination will be that much more enjoyable.

Grab your best friend and hit the road!
Start with trips to places your dog will enjoy
We've all seen those videos of dogs who don't enjoy the drive to the vet. That's probably not the best trip to introduce your dog to car travel. A better idea is to get your dog used to car driving when they are a puppy. They'll take in the sounds and smells and also see how you behave and they'll begin to become familiar with experience. You can start with short trips and if your dog is calm and comfortable you can then expand your horizons little by little. And if you do take a longer trip, make sure it's to a place that your dog will enjoy. That way your dog will associate car travel with good times and be more comfortable and willing to embark on future trips, without any fussy barking.

Dog transport box or car harness and seat belt
Seat belts ensure safety on the road and our dogs need and deserve the same protection. A secured dog enhances the driver's safety too. When dogs are free to jump around during car travel they can disrupt the driver's concentration and physically interfere with the dog owner's ability to drive which could lead to injury or worse on the road. Clearly the safest thing for people and dogs is to have every passenger utilise the proper car restraint while driving. If the dog is travelling in the front or back seat, it is advisable to wear a suitable dog car harness that connects to the car's seat belt. Another good option is to secure a dog car transport box, also known as a dog booster seat, to the car seat. Many of these seats also utilise the car's seat belt.

Which is better for your dog? Where a dog should be secured in the car depends on the size of the dog. A small dog in a booster seat or transport box can fit well in the car's footwell, while the best place for a large dog is a car's spacious back hatch area or luggage compartment, which with the help of a dog net creates a safe area for the dog. Small and medium-sized dogs can ride in the back seat of the car using a dog car harness and seat belt. When using a car's seat belt, it is important to check that the harness is the right size for your dog. The dog should be able to change position if he or she gets stuck, but not be allowed to wander just anywhere in the car.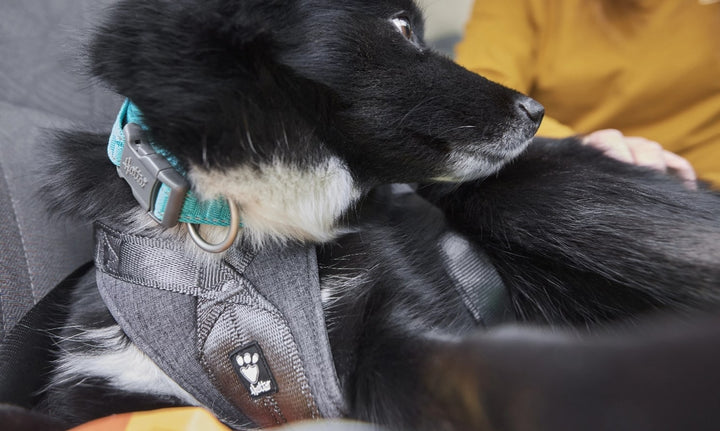 Making sure your dog is comfortable in a car harness
The fit and durability of a dog car harness are important factors in your buying decision. The harness should be designed so that you can get your dog in and out of the harness easily and it should be adjustable to ensure a good fit. This way the harness will stay on your dog in all situations and your dog will feel comfortable and be able to relax during the car ride.

In the event of sudden braking or a collision, the harness must be able to withstand the force applied to it. Make sure that the harness is actually intended for use as a car safety restraint and that it has been crash tested and meets or exceeds the proper safety requirements. Strength- and crash-tested harnesses are identified by the regulatory standards assigned to them. Untested harnesses might help keep a dog in place during car travel, but they may not withstand the force applied to them in a crash situation which could cause the harness to fail. But a tested, collision-resistant harness will help to keep the dog more secure should there be a collision, and the dog will be in a safer position if first responders need to free passengers in a rescue situation.
A good dog car harness will provide security and comfort
We covered how to choose a car harness based on your dog's size and weight. But then comes adjustability to ensure your dog's comfort and wellbeing during car travel. In a harness that is too small, the dog will be uncomfortable and in the event of a collision the force could cause physical injury. Similarly, a harness that is too big may not stay on the dog properly. The ideal harness will be sturdy in design and have a wide chest section and durable straps that help to distribute the force of sudden pulls across a wider area versus a single point on the harness. This will also improve the durability of the harness. And when the car harness is secured to the car's seat belt there will be fewer weak points in the event of a car crash.
Choose a harness that goes the distance and meets other needs too
On long car journeys, a good, versatile dog car harness can also be used for bathroom breaks and impromptu outdoor activities. If your dog's car harness has an attachment ring for a leash, you won't have to swap it for another harness or collar every time you take your dog out of the car. It's also good to choose a harness that has bright reflectors to enhance both your and your dog's safety on or near roadways in low-light situations.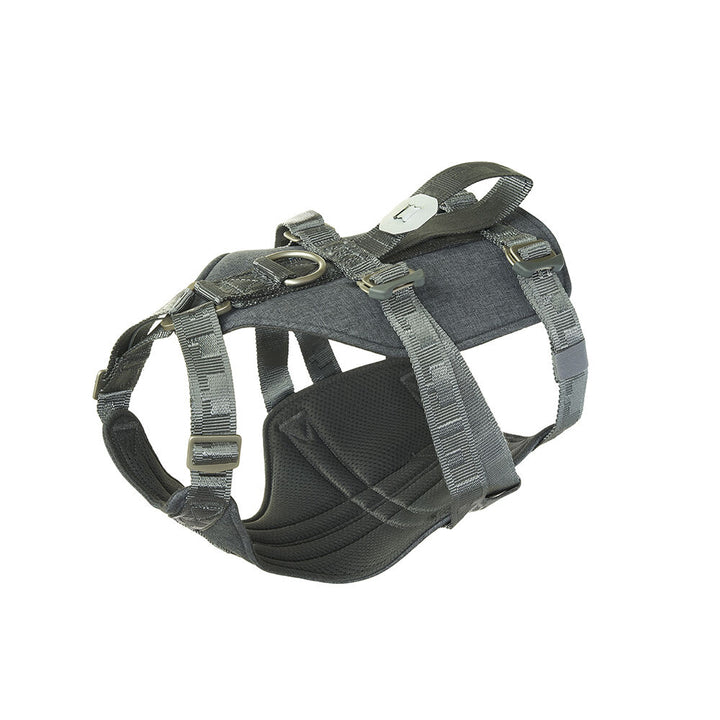 Travel Harness ECO
Strong, super adjustable and crash-test compliant, the Hurtta Travel Harness ECO provides an ideal balance of security and comfort to help keep your dog safe and happy during car travel. The car harness provides great protection while still allowing your dog to sit, stand or lie down comfortably.
Learn more & order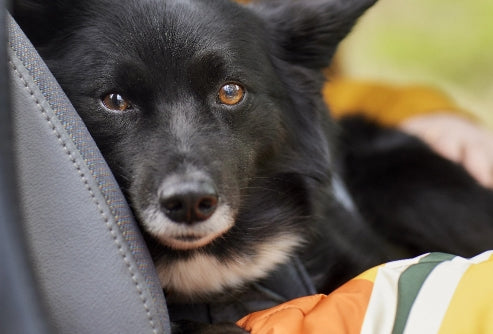 How-to-dress: Travel Harness ECO
Get road trip ready with this helpful dressing video. Careful though, viewers may get hooked on its fun and laid back van lifestyle.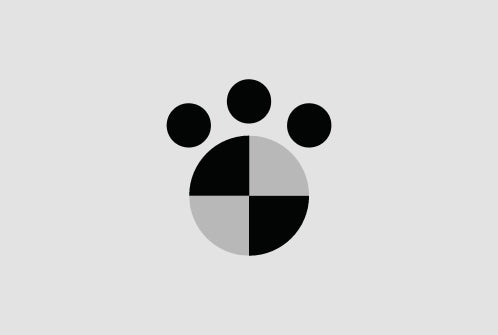 Crash tested
The new ECO version is made from an extra-durable recycled material which helps to minimise our dependence on landfills. Tough stainless steel components and buckles add an extra layer of protection, while a sturdy harness loop keeps the dog in place and protected against sudden movements.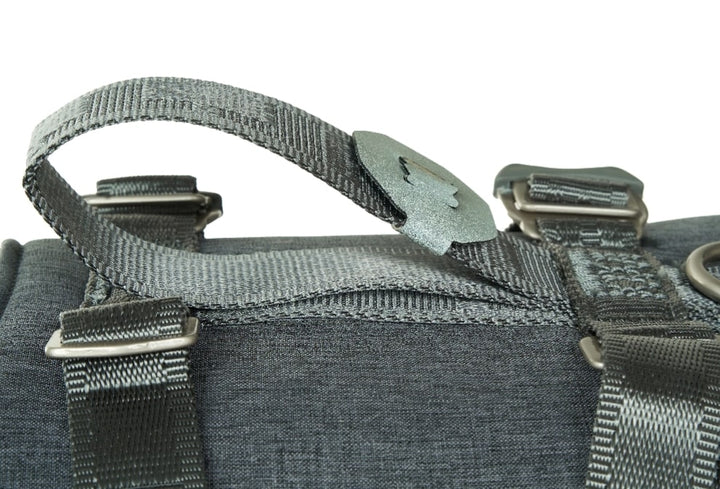 Adjustable
A rugged handle and leash ring make it perfect for outdoor activities and quick bathroom breaks on the road. The dog can sit, stand or lie down and you can find the right fit for your dog by adjusting the neckline, chest and waist.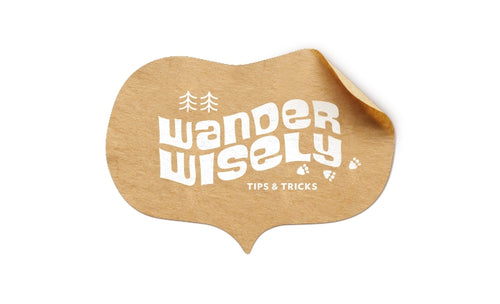 Hurtta road-trip tips:
› Start training your dog to ride in the car when he or she is a puppy. That way every car trip will be a more enjoyable adventure together.

› Train your dog to get used to wearing a car safety restraint from an early age. If it feels familiar and the size and fit is right, travelling will be more comfortable for your dog and safer for everyone.

› Always bring water and take regular bathroom breaks, especially on long car trips. Then you'll be ready for the road ahead!