Warm up to winter training
While we do move our lives more indoors when winter arrives, dog training is one activity that you can enjoy with your dog year round. It's a great way for dogs to learn new skills, enjoy different activities, maintain their physical health, and release pent-up energy – all of which contribute to a happy dog life. Training also helps us to deepen our connection with our dogs while allowing them to engage in activities or sports that they enjoy. And that's something we all need to nurture even when winter arrives.
Dog sports and training is caring
Not everyone has an indoor space to train during winter. But that's okay because doing activities and training outdoors adds another dimension to the experience that will allow dogs to interact with various stimuli and grow. That's why it's a good idea to have winter apparel and gear for both you and your dog so you can get more out of your training and make the most of the winter months.

A treat bag is one of the most important tools in dog training in every season. But you'll want to expand your toolkit when the weather cools down. In the fall a training vest with large pockets for carrying toys and other necessities will help you to keep your hands free. And for the coldest winter months you can move to a full jacket that will hold even more items and provide better wind and rain protection.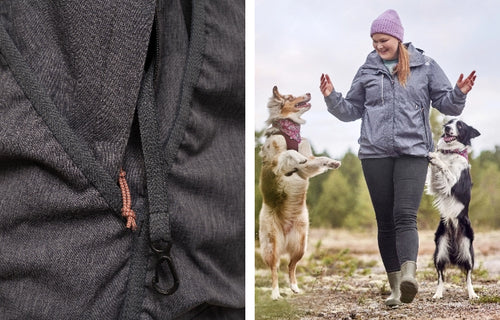 Perform at your best in any weather
Wind, rain, even a cold training facility can be seen as obstacles to training. But with the right apparel and gear like the Hurtta Training Jacket ECO and Hurtta Training Vest ECO they don't have to be. Layering will come in handy too, such as wearing a sweater or some other warming layer under the vest or jacket.

Hurtta training apparel is designed for all dog sports and competitions. Roomy pockets make it possible to carry large toys during training. And the breathable material keeps the owner dry and warm, whether the sport is a fast-paced rally-toko or one that requires occasional waiting. On the inside of the jacket, protected from the rain, there is a pocket with a key ring for important personal items such as a phone. Bright 3M reflectors enhance safety in dark and busy urban areas. Snap pockets keep items secure, and the high collar and hood ensure that your enthusiasm for training won't freeze under any circumstances. With its different-sized pockets, dogs will learn that rewards don't always come from the same pocket. And thanks to the jacket's stylish, comfortable design, you will look good in non-training settings too.


Warmth doesn't have to mean less mobility
Dogs that are sensitive to cold weather need additional warming for all kinds of outdoor activities. And just because a dog doesn't seem to be cold, such as dogs with thicker coats, that doesn't mean that you can't still utilise warmth to help your dog perform better. Even dogs that tolerate cold conditions better will benefit from dog apparel that they can wear during initial training and sport warm-ups and to keep muscles warm and cool-down properly after training and competitions.

The Hurtta Warming Midlayer Jacket is a cold-weather essential that won't restrict the dog's natural movements. It's also designed to be worn with the light and completely waterproof Mudventure Coat should you experience wet weather. The Warming Midlayer Jacket is also perfect for those moments when the dog has to wait during training and competitions and needs to stay warm. That way your initial warm-up work won't go to waste and you ensure the best possible muscle care for your little star athlete.

If freezing weather is headed your way, the most ideal jacket for training dogs is the Hurtta Extreme Warmer, which has a soft tricot hood and high collar that protects the dog's ears and head from frostbite. Plus both the Extreme Warmer and the Warming Midlayer Jacket feature a special body heat-reflecting foil lining that provides additional active warming for core muscles and stimulates the dog's blood circulation.