Dressing in layers, or layering as it's called, is a familiar term for people who live in colder climates and those who spend a lot of time outdoors. Same goes for parents that have young children. But oddly enough, most people don't apply the same logic to their dogs.

By layering, the benefits of three products can be achieved with only two. It's good for your furry family member and it saves valuable closet space at home. And not buying a new coat for every type of weather is clearly better for the environment.

Layering, your other best friend
Layering works best when the layers are designed to be worn together. Dogs obviously need the most protection in cold and wet weather. And instead of having to buy separate outfits for cool weather, cold weather, mild summers, and freezing sleet, you can dress for every type of weather with two smart products that serve their own purpose.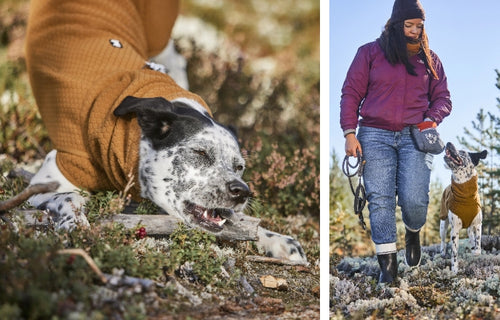 Extra warming for cool, dry weather
The Hurtta Warming Midlayer Jacket ECO is made for layering. Alone, it's perfect for dry, cool weather and will provide substantial warming for hairless and short-haired dogs on chilly autumn evenings. Dogs with thicker coats can benefit from the extra warming the jacket provides in freezing weather. For athletic dogs, the jacket offers important pre- and post-workout warming.

The Warming Midlayer jacket ECO features a clever foil lining that reflects body heat back to the dog. It also helps to activate the dog's blood circulation. The jacket's high collar protects the neck well, and thanks to its good fit the jacket adapts to the dog's movements without restricting his or her natural movement.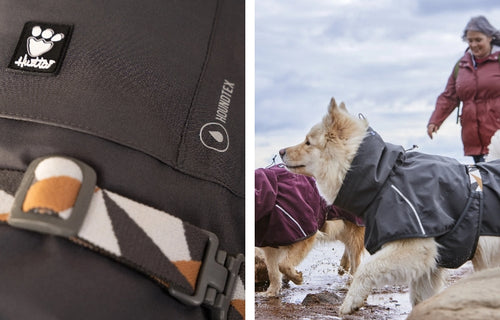 A hardworking layer that beats the rain and heat
The Hurtta Mudventure Coat offers dogs protection in all kinds of weather. This unlined raincoat is perfect for unexpected summer rains and windy weather. It also provides protection from the scorching sun without creating a lot of extra heat for the dog because its waterproof material is thin and light.

Every seam of the Mudventure Coat is fully taped to keep water out. And its high rainstopper collar prevents rain from running down the dog's neck. It also packs neatly into a small space making it great for day trips and longer hikes. Rain or shine the Mudventure Coat will keep your dog protected, and that means extra playtime.
Layer up and enjoy winter to its fullest
You know you're layering correctly when you can turn two garments into one super garment. The combined outfit utilises the best aspects of both garments and gives your dog enhanced weather protection for changing weather conditions that each garment couldn't provide alone.

Combining the Warming Midlayer Jacket and the Mudventure Coat gives your dog a powerful one-two punch against rapidly changing fall and winter weather. The first layer provides valuable warmth and the surface layer acts like a top coat to protect against wind and rain.
Hairless and short-haired dogs are often sensitive to cold weather so they definitely need extra warming. But additional warming layers are also useful for cold-hardy dogs with thicker coats, especially during the harshest winter frosts. The comfortable Warming Midlayer Jacket is a great warming layer on its own but when it's under the Mudventure Coat it creates a more powerful heat-insulating air layer that keeps dogs warmer longer.
Layers don't have to limit mobility
Using layers to stay warm in winter is important. But dogs are very active so it's equally important that the layers they wear don't restrict their natural movement. Layers need to be thin and fit the dog well. The Warming Midlayer Jacket is specially designed for layering with ergonomics and mobility in mind. Its material is both flexible and light, and its honeycomb structure perfectly adapts to the dog's natural movements. And it's ideal for winter because it's sized to fit under both rain and winter jackets and overalls.

Next comes ease of use, which includes dressing and how your new layers will work with a leash or harness. The Midlayer line is designed so that a harness is easy to put on over the garment. Next, it's just as easy to slide on the Mudventure Coat or Overall and attach a leash to the harness through the garment's built-in weatherproof leash opening. This way your harness will stay dry during outdoor activities in wet weather.

With garments designed for layering, you can achieve the benefits of three garments when you're actually only using two. So no matter what changing weather fall and winter bring, you and your dog will be ready. And the best part of being prepared for winter is that you and your dog will be able to play together longer in the great outdoors.