Caring for your dog in the summer heat
Caring for your dog in the summer heat
When the summer weather warms up, many dogs who love the warmth head outdoors to yards, parks, and patios to bask in the sun. Hairless and short-haired breeds like the Chinese Crested and Italian Greyhound particularly enjoy the sun's rays. But for many long-haired or dark-coated dogs, such as Bernese Mountain Dogs, summer can be a challenging time. In those cases, it's crucial to ensure that your dog has access to shade and a cool retreat.

Dogs love spending time outdoors and enjoying activities with their humans. Sometimes they get caught up in the excitement and forget to take a break. Therefore, it is the owner's responsibility to prevent the dog from overheating. Dogs don't sweat the same way we humans do. Dogs rely on panting and sweating through their paws to dissipate heat. In extreme heat, dogs are at risk of heat stroke, which is a life-threatening condition that can cause serious damage to internal organs. Symptoms of heat stroke include severe fainting, drooling, restlessness, vomiting, diarrhea, and decreased consciousness. Taking breaks and cooling your dog down can help prevent heat stroke.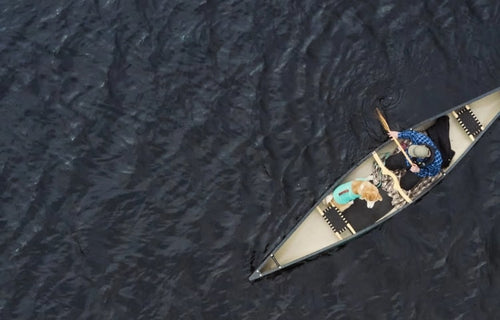 Be dog smart. Time your activities.
In hot weather, it's best to take long runs and engage in other vigorous activities during the coolest parts of the day, such as early morning or late evening. However, it's not always possible to schedule
activities at specific times. In such cases, here are a few cooling tips to keep in mind:

1. When participating in agility or fast-paced activities, divide the performances into short bursts.
2. Between performances, offer your dog fresh water and the opportunity to rest in the shade.
3. Instead of running on scorching asphalt during midday, opt for a grass field or dirt road.
4. Ideally, choose a jogging path that offers shade and is located near a body of water.
5. Keep a close eye on your dog's movements and body language throughout the outdoor activity or sports performance.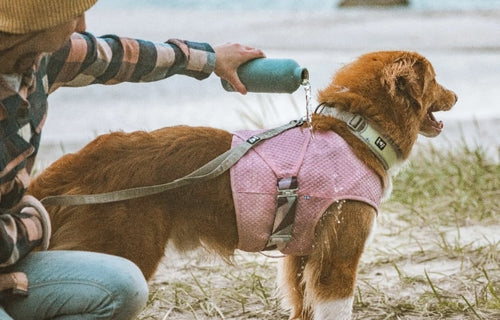 Beat the heat. Try a cooling vest.
If you enjoy jogging, hiking, or participating in sports with your dog, a cooling vest can be a handy accessory. The vest, when soaked in water, evaporates moisture and effectively cools your dog. It fits snugly around the chest, cooling the vital areas such as the large blood vessels of the chest and lungs. This cooling effect then circulates throughout the dog's body.

The vest is designed to provide a snug and comfortable fit, even for long-haired breeds like Shetland Sheepdogs and Australian Shepherds. The vest won't restrict your dog's natural range of motion, and it prevents large muscle groups from cooling down too quickly. As a result, your dog will stay cool even between sports performances and be ready for more action after a short break.

The cooling vest is also perfect for daily outdoor activities and travel. While using the vest, keep and eye on your dog's condition, and if the vest dries, simply wet it again. If the vest gets wet with seawater, be
sure to rinse it carefully to remove any salt residue that could damage the fabric.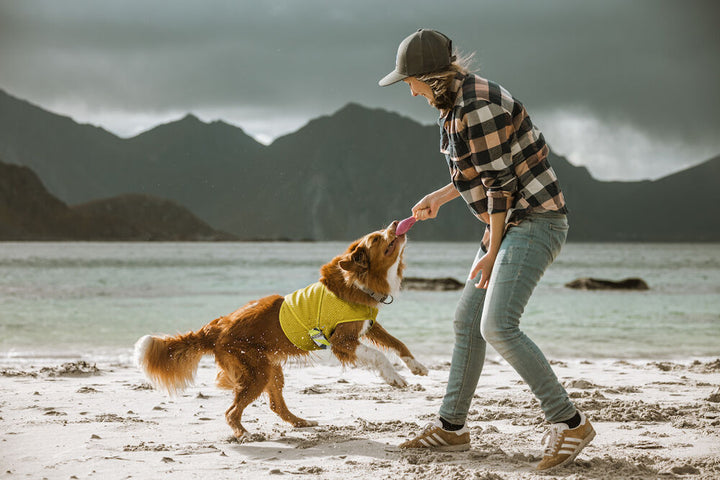 Cooling Wrap
The Cooling Wrap is safe for your dog because it mimics our body's own natural cooling process. Simply soak the vest in cold water, squeeze the water out, and then it's ready for cooling. As the cool water evaporates it creates a cooling reaction, helping your dog stay cooler longer.

The thin inner layer...
Read more & order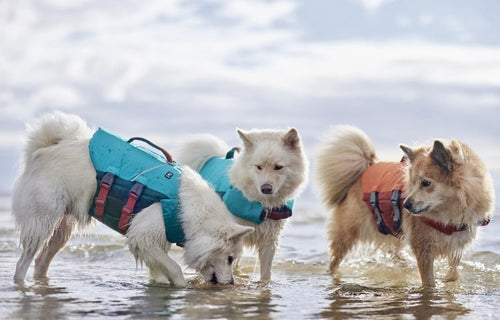 Hit the beach – safely
Wading and swimming are excellent ways for dogs to cool off in the summer. Cooling their paws can have a significant impact on the dog's overall temperature since dogs dissipate heat through their
paws. However, not all dogs are natural water enthusiasts or good swimmers. In such cases, a life jacket provides safety for both the dog and the owner.

Even dogs that can swim, like Labrador Retrievers or Golden Retrievers, can benefit from wearing a life jacket because swimming in the water and on the beach in hot weather can be tiring. The buoyancy provided by the life jacket saves energy and makes swimming more enjoyable and less stressful as the dog requires less effort to stay afloat.

If there is no beach suitable for swimming nearby, a small wading pool in your own yard can be a joy for your dog. Even small breeds like the Jack Russell Terrier or Miniature Schnauzer will happily frolic in a small pool. Water-loving breeds such as the Spanish Water Dog or Poodle, may also enjoy being cooled down with a hose.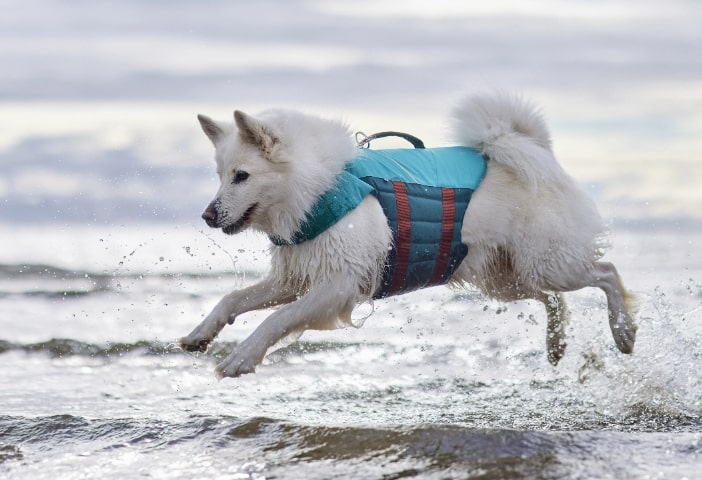 Life Savior ECO life jacket (SS23)
The trusty, lightweight Hurtta Life Savior ECO is made for swimming, boating, hunting, water rescue and more. New and improved version spring 2023! The new flotation material is softer and more flexible to conform to the dog's body and balance weight optimally without restricting the swimming motion. And a new ...
Read more & order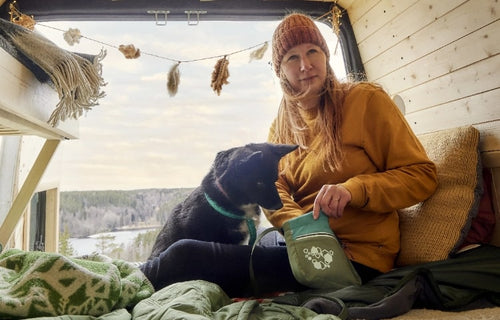 Frozen treats, a cool pick-me-up
Just like we enjoy ice cream in the summer heat, dogs have their own cooling treats, and you can easily make them at home. Freeze dog food morsels inside ice cubes or serve them any of their favourite treats cold and you will surely bring a smile to their face.

It's also essential to ensure that your dog always has access to fresh and clean water. Place their water bowl in a shaded area and remember to change the water regularly. To enhance the cooling effect, you can add a few ice cubes to the water bowl. And remember to monitor your dog's drinking habits to ensure that they stay hydrated throughout the day.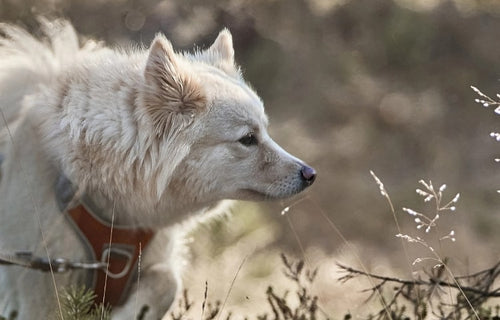 Create a shady spot
Whenever your dog is outdoors, make sure there is always a shaded area where they can seek refuge from the sun. You can create suitable cooling spots for dogs that spend a lot of time outside. Suitable cooling areas can also be arranged for dogs that spend a lot of time outdoors. Large stones or tiles placed in the shade stay cool for a long time and offer a comfortable place to cool down. Some dogs
enjoy digging holes, and the ground or sand at the bottom provides natural coolness.

In the summer months, even temperatures indoors can rise to uncomfortable levels. Ensure that your dog finds a cool spot at home, such as any tiled floor where they can lie down and relax.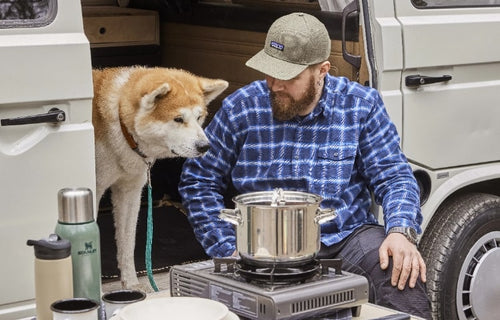 Make summer road trips even cooler
Travelling with dogs in the summer requires careful planning. The most crucial rule is never to leave your dog alone in a car. Even if the car is parked in the shade with the windows open, the temperature
inside can quickly become dangerously hot.

When travelling with a dog on the road, it's important to ensure that there is proper air circulation around them. If your dog travels in a transport carrier, avoid tightly packing other luggage around the box. Consider using a cooling vest, a cooling sleeping mat, or placing a fan placed near the dog to help keep them comfortable. Make sure to plan for sufficient stops and provide regular drinking breaks
during your journey.

Remembering these tips will help you to keep your dog cool and safe during the hot summer months. Enjoy your adventures together while keeping your furry friend comfortable and protected from overheating.