Harnesses
The Hurtta harnesses are designed to stay in place and still feel comfortable. An ergonomic dog harness prevents dog's neck and shoulder problems. In our collection you will find different types of harnesses for dogs of all sizes. Choose between dog favorites such as the Weekend Warrior harness or the more traditional Casual harness. Dog harnesses can be an effective training tool, especially for puppies. Some pet owners worry that a harness could be more inconvenient to get on and off than a collar. While some dogs may still prefer a collar to a dog harness, it's important to explore the option with your pet. Adjust the Hurtta harness for your dog and enjoy your walks knowing that you made the most comfortable and safe choice for your dog.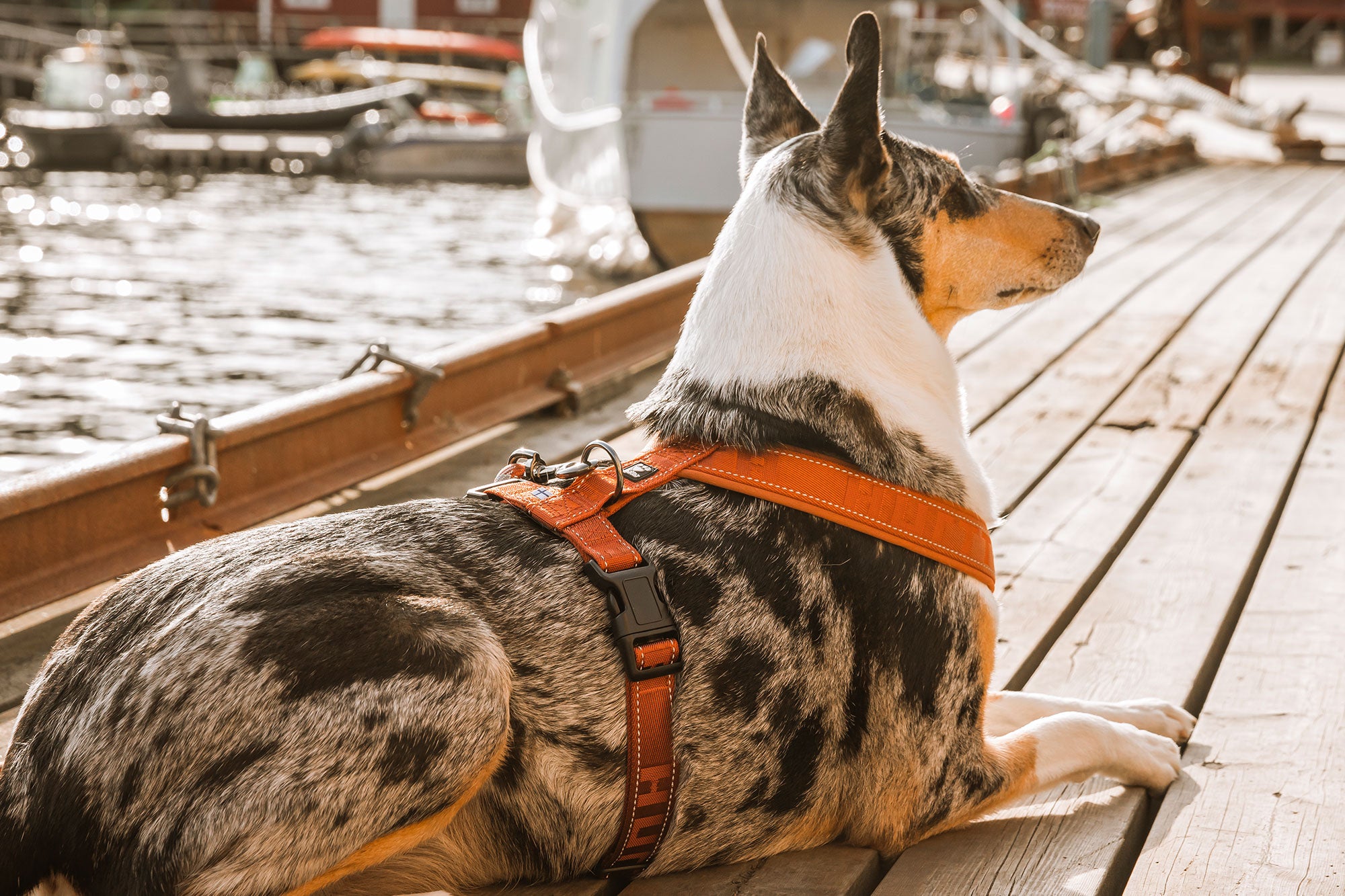 Dog harnesses
When developing our dog harnesses, we always think about your dog and how he enjoys his adventures with you. Okay, it might not always be your dog exactly - but we always have what we love most in mind: Dogs. And because we love dogs so much, we care about their comfort and safety.
That's why every Hurtta dog harness is ergonomically designed so that your dog retains its natural freedom of movement. In addition, our chest harnesses for dogs are particularly comfortable so that your dog can enjoy your adventures together in comfort. We also pay attention to robust durability and exceptional adjustability so that the dog harness can accompany you faithfully for years. Nevertheless, style is not neglected either: thanks to our Hurtta Mix & Match, you can easily combine any dog harness with a dog leash in the matching colour.
- Ergonomic: Adapts to the dog's natural movement instead of restricting it.

- Safe: Hurtta dog harnesses are safe for your dog, from the choice of materials to the cut to the bombproof hold.

- Durable: With high-quality materials and thoughtful craftsmanship, a Hurtta harness will accompany you on your adventures for years to come.

- Sustainable: In addition to a long product lifespan, we also emphasise sustainability in other aspects.

- Thoughtful: With great attention to detail, we have also thought of special features such as reflectors and handles.

- Perfect fit: Thanks to different sizes and generous adjustability, you will find dog harnesses for Dachshunds as well as dog harnesses for Golden Retrievers.

- Suitable for every adventure: From daily walks to winter training sessions to road trips, Hurtta has the right dog harness for every occasion.
Dog collar vs. dog harness.

A dog harness is not the only way to keep your dog on a lead - there are also dog collars. At first glance, a collar seems more practical because it's easier to put on and take off your dog. And there are definitely reasons to use a collar - for example, so that your dog feels as free as possible during training.
Hurtta collars are designed to distribute the pressure over a large area of the dog's neck to prevent overloading. But as soon as you go on bigger adventures together, you should think about a chest harness. For example, a dog harness is definitely the better choice for jogging or hiking: it distributes the pressure evenly across your dog's chest and back instead of just the neck. This means that even rapid changes of direction and a stronger pull are not too much of a strain on your dog's body. Plus, if you're exploring difficult terrain or encountering surprising situations, a handle on the back of the chest harness helps to support your dog or keep him under control.

Even more important is a dog harness for a puppy. A puppy's delicate neck shouldn't have to struggle with the strain of a collar as it grows, and a decent puppy harness will help you learn the little dog basics.
Find the perfect harness for your dog.

Are you looking for a comfortable dog harness that fits your pet perfectly? We have high-quality dog harnesses for every breed and every purpose. Our dog harness guide will give you an overview of the large selection of Hurtta harnesses. We also explain the difference between an H-harness and a Y-harness and help you make the right choice.

We design every dog harness so that it can be adjusted to fit almost any dog's body with maximum adjustability. The perfect fit is essential for your dog to feel at ease and enjoy your adventures in comfort. So before you order, be sure to take a look at our sizing system so that you can make the best choice for your pet.
Dog harness for puppies.

How exciting, a puppy is moving in! Naturally, you want to be perfectly prepared and offer your new pet everything he or she needs for a happy dog's life. With our puppy collection, you are perfectly prepared for the adventures with your little friend.

We recommend our ECO Casual dog harness for puppies: it is comfortably padded and has reflective seams to ensure that your baby shines brightly even in the dark. With great adjustability, it grows with your dog as it gets bigger. Above all, you can put it on your dog very quickly when he or she is still learning to be house-trained and you need to be out the door in seconds.
Dog harness for small dogs.

Small dog, big personality! You can perfectly express the unique character of your little pet with our bright colours. As small dogs are very close to the ground, they often bring a lot of dirt home with them. A dog harness for Chihuahuas or Yorkshire Terriers must therefore be able to cope with wet conditions. We recommend our ECO Casual Y dog harness for small dogs. It has comfortable padding made from quick-drying neoprene. So you don't have to worry if your little dog gets completely wet again - his harness will be ready for his next adventure in no time at all.
Dog harness for large dogs.

Many large dogs have a gentle soul, but they all have a lot of physical strength. To distribute this force evenly across the dog's body, a dog harness for Weimaraners or Rhodesian Ridgebacks must have the right cut and withstand the pressure with excellent workmanship. We recommend our Weekend Warrior ECO dog harness for large and powerful dogs. With its wide chest bar, it distributes the pressure evenly across your dog's chest and back, even when pulling hard. In addition, the handle on the back ensures that you have even the biggest powerhouse under control, even in tricky situations and difficult places.
High-quality dog harnesses for special situations.

If you are planning special adventures, you also need special equipment. With Hurtta, you're prepared for anything.

- With a sustainable dog harness, you can celebrate your love for your dog and your love for the environment.

- With our dog harness for the car, your pet will travel safely and comfortably on all your motorised adventures.

- With a No-Pull harness, you can lovingly train your dog from a ruffian on a lead to a dream companion.

- With our warming harness, you can keep your pet warm and safe even on winter outings.